Well-Known Member
Staff member
Orga
Admin
Meet 25 komt er aan! Reden voor een feestje!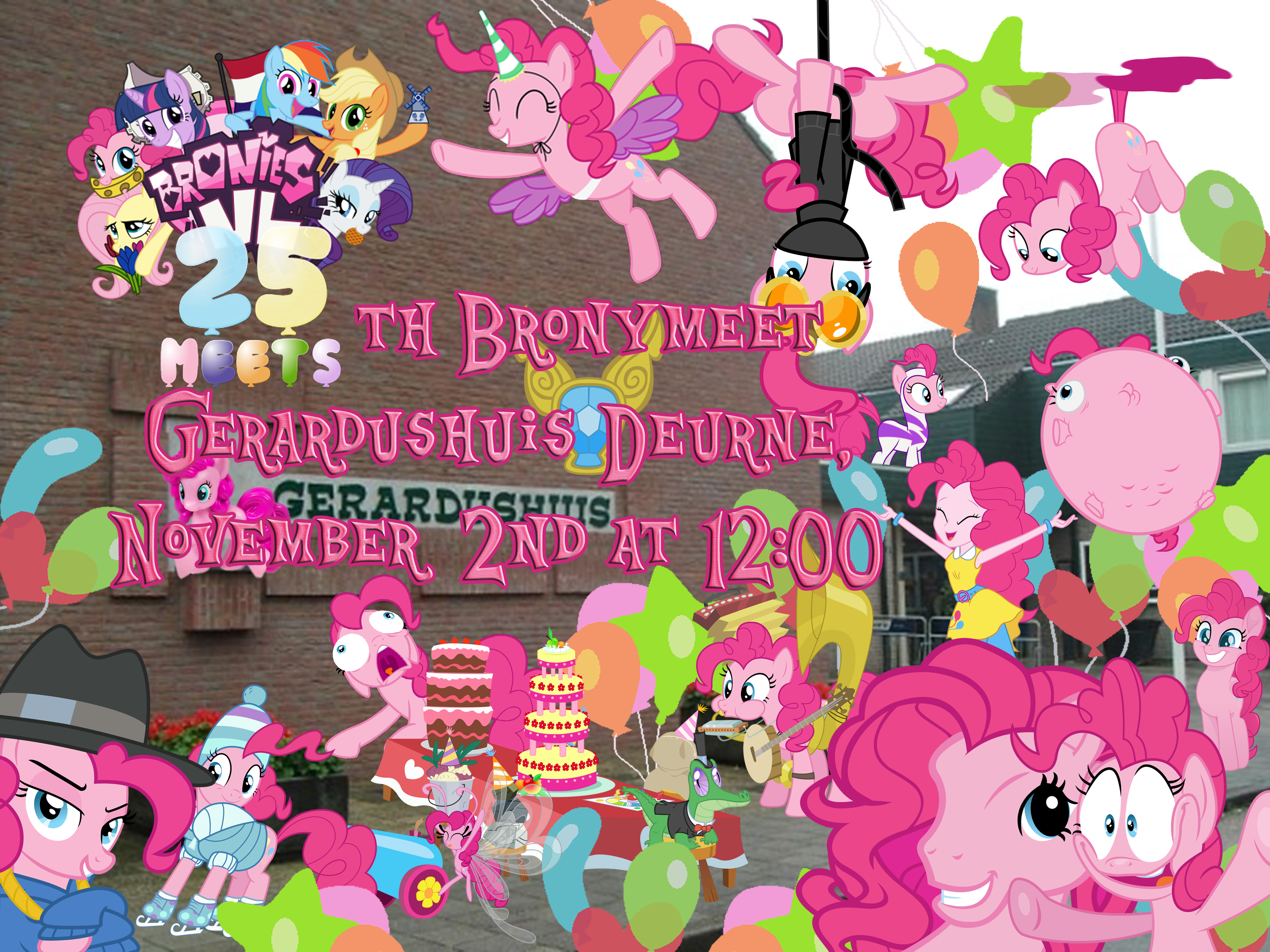 Fillies and Gentlecolts!
Meet 25 will be held in Deurne on November 2nd!
Because it's our 25th meet it will be a special one with a dinner and an afterparty.
We even have T-shirts this time!
The theme of meet 25 is:
Pinkie Pie Super Duper Party!

Dinner and T-shirts
The deadlines for these have passed.
Where?
Gerardushuis Deurne
Parkstraat 2
5752 AP Deurne
When?
Saturday November 2nd 2019
Start: 12:00 (doors open: 11:30)
End: 22:00
Events
As of now, we have the current activities planned out for your (subject to change)
- Cosplay Contest
(register here)
- Auction
(more info here)
- Vendors
(more info here)
- Drawing table
- Karaoke
- Quiz
- Q&A with the Orga
- Dinner
- Afterparty with a performance and DJ's!
Food & Drinks
- You're not allowed to bring your own consumptions to this venue
- The venue has their own catering. You'll have to pay for that yourself.
- Alcoholic beverages are for adults (18+) only. The venue might check this.
- If you want to bring your own food or drinks, please consume them outside
You can buy a coupon for € 15 with witch you can buy 3 drinks, 2 sandwiches, 2 warm snacks and something else (like soup or cake).
- Use your common sense
- Respect other people and their properties
- Plushies are not allowed to be thrown, to fly through the venue or go any faster than 6km/h (no running!)
- For cosplayers: no realistic weapons (except for LARP or NERF)
- For NERF: Carry the weapons with empty magazines
- For LARP: Don't use your weapons inside the venue
- You are allowed to bring your own games.
- If someone is bothering you, please inform the organisation about it. We're there to help you
Fillies and Gentlecolts!
Meet 25 komt er aan en wel op zaterdag 2 november!
Net als meet 24 zal het gaan plaatsvinden in het Gerardushuis te Deurne
Omdat het onze 25e grote meet is wordt het een hele speciale met een diner en een afterparty.
We hebben zelfs T-Shirts!
Het thema van meet 25 is:
Pinkie Pie Super Duper Party!

Diner en T-shirts
De inschrijving voor T-shirts en het diner is gesloten.
Waar?
Gerardushuis Deurne
Parkstraat 2
5752 AP Deurne
Wanneer?
Zaterdag 2 november 2019
Start: 12:00 (deuren open: 11:30)
Eind: 22:00
Activiteiten
Vooralsnog hebben we de volgende activiteiten voor jullie bedacht (kan nog gewijzigd worden):
- Cosplay Contest
(hier inschrijven)
- Veiling
(meer info hier)
- Verkopers
(meer info hier)
- Tekentafel
- Karaoke
- Quiz
- Q&A met de Orga
- Diner
- Afterparty met een optreden en DJ's!
Eten & Drinken
- Geen eigen consumpties toegestaan! Wij zullen dus zelf niks mogen klaarzetten voor jullie.
- De locatie heeft eigen catering, waarvoor eenieder zelf kan betalen.
- Alcohol alleen voor 18+ en de locatie mag hierop controleren!
- Indien je niet bij de locatie wilt eten/drinken en je hebt wat mee, eet dit dan buiten de deur op!
Je kan voor € 15 een strippenkaart kopen waarmee je 3 drankjes, 2 belegde broodjes, 2 snacks en 1 andere consumptie (zoals soep of vlaai) kan kopen.
- Gebruik gezond verstand
- Hou rekening met elkaar, elkaar's spullen en met de locatie
- Plushies mogen niet gegooid worden door de zaal heen of sneller gaan dan 6km/u (niet rennen dus)
- Voor cosplay: geen zeer echt lijkende nepwapens of decoratieve zwaarden/etc. LARP en NERF is toegestaan.
- Voor NERF: wapens met LEGE magazijnen dragen
- Voor LARP: wapens NIET in de locatie zelf gebruiken op elkaar of de omgeving
- Eigen spelletjes e.d. mogen gewoon mee, graag zelfs!
- Als je last hebt van iemand, kom dan vooral naar de orgaleden toe. Wij zijn er om je te helpen bij vervelende situaties.
Nationale Vrijwilligersbrigade:
Wil je graag meehelpen met het op- en afbouwen van de meet, of assisteren bij events en het goede verloop van de dag? Geef je dan op als lid van de BroniesNL Nationale Vrijwilligersbrigade! Je kan als vrijwilliger de organisatie helpen met het succes van de meets! Zie deze link voor meer informatie:
Vrijwilligers Info Thread
.
Samen met jullie willen we hier een geweldig feest van maken. We hopen zowel oude als nieuwe mensen te zien in Deurne. Als er vragen, opmerkingen of suggesties zijn dan horen wij dat graag via de eerdergenoemde kanalen.
Tot 2 november!
Last edited: