Well-Known Member
Staff member
Orga
Admin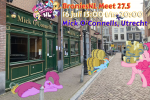 Fillies and Gentlecolts!
(English below)
Het is ons een eer en genoegen de volgende officiële BroniesNL-activiteit aan te kondigen:
Cafémeet 27.5!
Op
zaterdag 16 juli 2022 vanaf 15:00 uur
worden we verwelkomd bij Mick O' Connells in Utrecht.
Dit is een gezellige Ierse pub met een fikse voorraad cider en andere dranken. Ook kun je er lekker eten.
Dit is een wat latere tijd dan we het normaal organiseren, maar daarvoor gaan we ook lekker door tot 20:00!
Er is ons gevraagd om vooraf door te geven met hoeveel mensen we komen, dus we vragen jullie je vooraf in te schrijven.
Dat kan met
dit formulier
.
Utrecht is goed te bereiken met het OV. De pub ligt ongeveer 10 minuutjes lopen van Utrecht Centraal. Parkeren kan het beste bij een P+R zoals
Westraven
, waar je voor een laag bedrag ook nog gebruik kunt maken van het OV. Parkeren in het centrum van Utrecht is
nogal prijzig
.
Denk nog even hier aan:
- Spelletjes zijn meer dan welkom!
- Hou rekening met andere gasten, dus niet overdadig veel MLP stuff (plushies e.d.), het stemvolume maximaal op "normaal praten" (dus niet brullen, jullie weten wie jullie zijn) en niet doelloos door de tent rennen.
- Dronkenschap wordt niet getolereerd. Aangeschotenheid wordt niet gewaardeerd wanneer dit uitloopt op het breken van regels en/of omgangsnormen.
- Iedereen betaalt voor zichzelf tenzij onderling anders afgesproken. Je kan met PIN of CASH betalen.
- Geen alcohol onder de 18. Eenieder die deze wet breekt of alcohol haalt voor een minderjarige zal bij de pub gemeld worden en gevraagd worden te vertrekken.
- Het is verboden om geen plezier te hebben.
De deadline voor het inschrijven is maandag 11 juli 23:59:59 uur.
Samengevat
Mick O' Connells
Jansdam 3, 3512 HA Utrecht
Website pub
Zaterdag 16 juli 2022
15:00 - 20:00 uur
English
We would very much like to welcome you at BroniesNL's next official meetup:
Pubmeet 27.5!
On Saturday July 16th 2022 starting at 15:00, we will be welcomed at Mick O' Connells in Utrecht. This is a very nice Irish pub with a great supply of cider and other drinks. They also serve very good pub food. The meet is planned to go on until 20:00.
We were asked to let the pub know how many people will attend, so please use
this form
to let us know you're coming.
Utrecht is easy to reach with public transport. The pub is only a 10 minute walk from Utrecht Centraal train station. Parking in the city is
very pricey
, so a P&R like
Westraven
would be a smart idea.
A couple of reminders:
- You're very welcome to bring board or card games!
- Please keep in mind that there will be other guests, so go easy on the pony merch (like plushies), try to keep your volume acceptable and don't run around.
- Do not get drunk. And mind your behaviour when you get your booze on.
- Everycreature pays for his/her own drinks (unless you have agreed otherwise). You can pay with PIN or CASH.
- No alcohol under 18. If you break this rule you will be asked to leave.
- It is not allowed not to have fun.
The deadline for subscribing is Monday July 11th 23:59:59 o' clock.
Summary
Mick O' Connells
Jansdam 3, 3512 HA Utrecht
Website pub
Saturday July 16th 2022
15:00 - 20:00
Last edited: